Artificial Intelligence – Driving the Future of Smart Banking
Author: Saad Doukali, Director – Digital Business Solutions
We have seen an unprecedented shift in the banking industry in the last few years towards digital adoption, which has been further accelerated by the recent pandemic. Large-scale digital adoption by banks and their customers has provided banks with a rich set of data. Artificial intelligence (AI) can help unlock the value of this data to drive innovation further and faster than ever before. According to IDC, banks have recognized the power of AI to extract value from data, with 65% of the banks & financial services organizations in the Middle East region are considering investing in AI to apply across a range of crucial functions, such as customer service, marketing automation, security, and operational efficiency.
Outcomes Expected from AI
AI can help banks achieve profitable growth by lowering costs, reducing errors, and optimizing resources through uses cases such as digital engagement, solving complex challenges, and augmenting the workforce by automating repetitive processes. For instance, a European used AI in credit analysis to achieve 30% increase in mortgage collections. A U.K. bank used AI to reduce compliance process duration by 80%. Another bank in Europe used conversational AI to handle 30% of routine customer service contacts. Broadly, AI can help banks to achieve the following interrelated objectives:
Increased Efficiency and Operational Excellence: Operational efficiency can be achieved across the board using AI-based automation initiatives, be it end-to-end process automation, financial risk management, fraud mitigation or supporting customer sales and service.
Customer Personalization and Improved Experience: AI helps banks in using disparate data sets to drive meaningful insights to design compelling customer products and services in the era of rising customer expectations and intensifying competition.
Compliance and Risk Management: AI provides the ability to analyze and identify relevant data for facilitating credit decisions and risk mitigation, cybersecurity and compliance adherence thereby helping build customer trust in this digital age.
Revenue Growth: AI can analyze the behavioral economics behind customers' financial decisions, thus helping the banks identify potential new revenue streams aligned to customer needs.
AI Investment Areas and Potential Use Cases
AI spending within the banking vertical in the Middle East & Africa region is expected to record a five-year compound annual growth rate (CAGR) of 26.8% from 2020 to 2025. The banking industry in Qatar is leading AI adoption with examples such as Qatar Islamic Bank and Dukhan Bank implementing conversational AI to improve customer experience.
Qatar's national AI strategy launched in 2019 aims to harness AI to secure the economic and strategic future of the country as is envisaged by Qatar National Strategy 2030. The recent move to establish an AI council to supervise AI activities further strengthens AI adoption. With such government support, the banking industry in Qatar is poised for major investment in AI.
AI Use Cases – Front to Back Office
Leading banks worldwide are considering an enterprise-wide AI strategy that cuts across front-office, middle-office, and back-office functions and are identifying, ideating, and implementing use cases across these layers.
The table below lists a few use cases in the industry.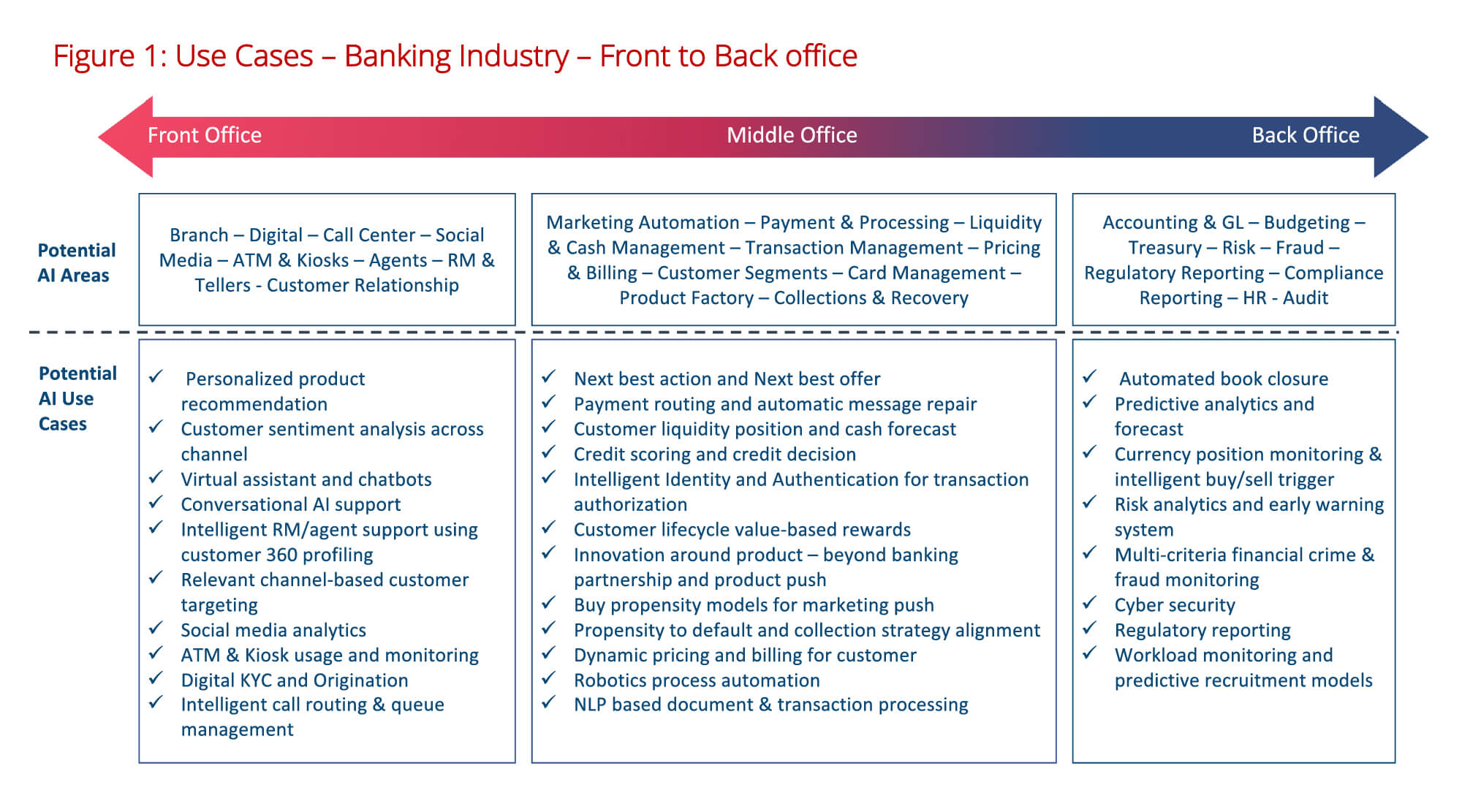 Customers these days are looking for personalized and contextualized products and services. AI technology can help banks with customer sentiments and behavior analysis to personalize customer offerings. It can support agents with customer and product insights to become trusted advisors. Banks are investing in conversational AI in the form of chatbots to free up human agent's time for more complex queries.
AI can be used for intelligent payment routing, which saves costs and time, while credit processing can be improved from scoring to collection, with reduced default risks.
One prominent use case is related to fraud analytics and financial crime mitigation, wherein banks are using AI to trigger real-time early action-based notifications.
Ensuring Successful AI Implementation
Despite all its benefits, AI certainly presents formidable challenges that may hinder some banks from full-scale implementation. IDC research shows that 46% of banks and financial services organizations in the Middle East region face scarcity of skilled AI resources. In addition to the skill-related challenges to implementing AI, banks face other challenges such as lack of an enterprise-wide AI strategy, management support, relevant use cases and lack of AI embedded culture. Banks are therefore advised to incorporate the following approach for AI implementation: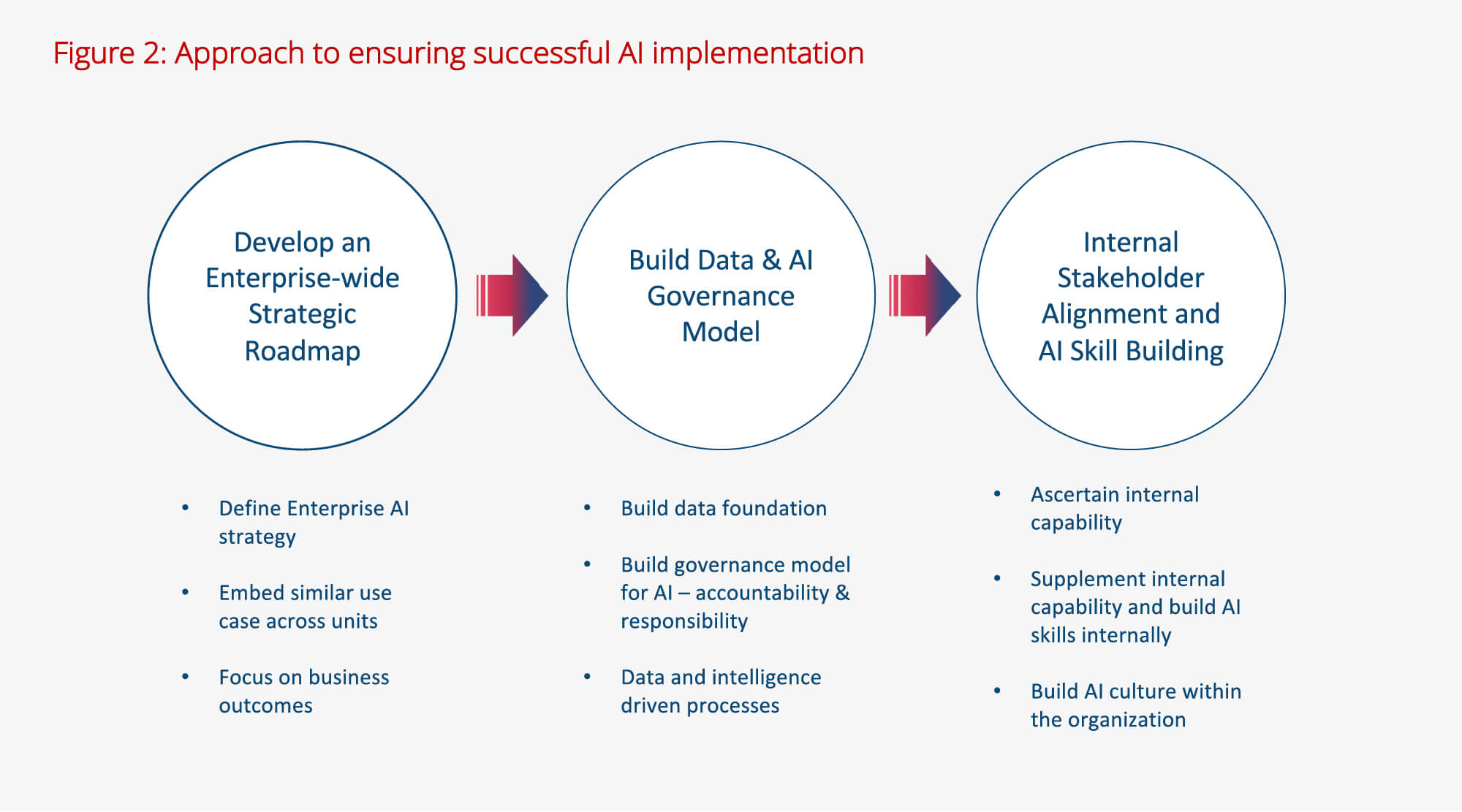 By defining an enterprise-wide AI roadmap, banks will remedy siloed processes and stand to gain cross-unit and organizational-level benefits. One of the most important aspects of AI adoption is to begin with internal stakeholder alignment and management buy-in. Business and IT units must agree upon common objectives, and then work together on developing the necessary skill sets and internal culture to facilitate them. Ensuring that all processes and transactions are viewed through an AI lens is key to reaping the maximum benefit of AI implementation across the organization. AI should be an integral part of your digital transformation strategy. Georges Hobeika, CIO Of QIIB in his discussion with Forbes ME emphasizes on AI as part of digital transformation and shares tips to tide over digital transformation challenges.
About GBM and IBM
GBM and IBM offer comprehensive software solutions to accelerate your journey to cloud, including solutions such as IBM Cloud Pak for Data, IBM Cloud Pak for Automation, IBM Cloud Pak for Integration, and many other comprehensive solutions such as IBM Watson, EAM and APM, Hybrid Data management and many more. Get in touch with us to accelerate your journey to cloud today.
To find out more on how GBM and IBM can help you accelerate your transformation visit: https://www.ibm.com/ae-en/industries/government and https://www.ibm.com/ae-en/industries/government/infrastructure-citizen-services.