Minister Launches Qatar Open Data Portal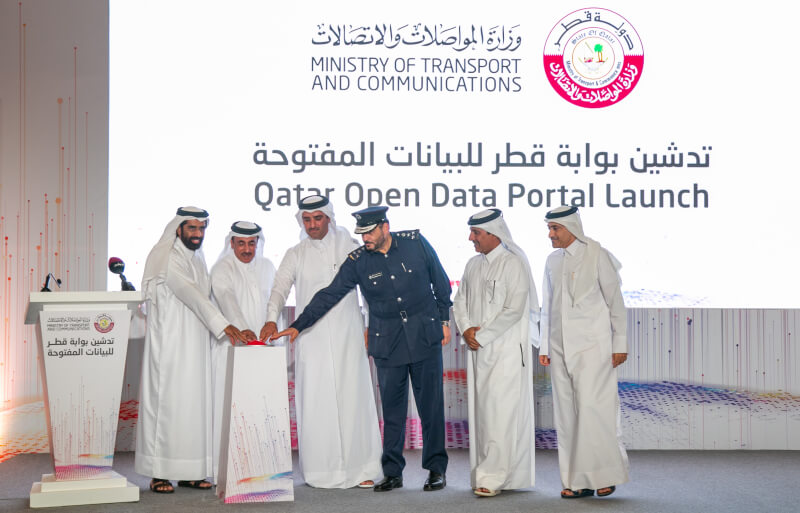 HE Minister of Transport and Communications Jassim Saif Ahmed Al-Sulaiti today launched the Qatar Open Data Portal at an MOTC event attended by the Planning and Statistics Authority Chairman HE Dr. Saleh bin Mohammed Al Nabet and the Administrative Control and Transparency Authority Chairman HE Mr. Hamad bin Nasser bin Rashid Al Misned Al Mohannadi.
In his opening speech, Minister Al-Sulaiti said that as the Government of Qatar realizes the importance of open data, "the Ministry of Transport and Communications launched the Open Data Policy in 2014 to achieve the objectives of national development and Qatar National Vision 2030. The aim is to provide public services efficiently and transparently, build the knowledge-based economy and boost innovation and creativity through an open and transparent culture where knowledge is available and accessible."
"In light of our work toward building a smart nation and our commitment to raising the name of Qatar in all global rankings where government transparency is a key factor, I am pleased to launch the Qatar Open Data Portal today, which will be a gateway to government data, making information easy to access, share and reuse. This will help transform these data and information into tools and applications that help in areas of research, innovation and creative and smart solutions," he said.
He said it was important to release data and make it open given the social and business value of doing so, "because data is a fundamental resource for the knowledge society that we aspire to and one of the powerful catalysts for trade progress and economic growth."
He hailed the MOI initiative in the field of open data, and efforts of the Ministry of Finance and Planning and Statistics Authority, which took the lead and began sharing their data via the new portal.
He said he was confident all government entities would join the portal soon to contribute to building a government that is more efficient, more open and more transparent for the good of all.
MOTC Assistant Undersecretary for Information Technology Affairs Mr. Hassan Jassim Al-Sayed said that MOTC launched this portal to publish government data online via a single national platform to streamline public access to data while guaranteeing its quality by making it available in the right format in line with best world practices.
The success of this new portal, he said, "requires government entities' cooperation as MOTC will be responsible for managing the portal with a specialized team that will focus on supporting all government bodies to raise awareness and encourage them to upload their open data to the portal."
"MOTC will also continue to organize workshops for open data ambassadors in each government entity, who have already been identified, to train them further in how to share their future executive plans as required at their entities," he added.
The event wrapped up with a panel discussion that included representatives from MOI, Ministry of Culture and Sport, the Planning and Statistics Authority and the Administrative Control and Transparency Authority for insights and exchange of expertise.
Director of e-Government Programs & Standards at MOTC Ms. Mashael Ali Al-Hammadi said that in the future countries would not be ranked as rich or poor but based on scales that focus on knowledge and information and to what extent they apply knowledge, research, development and technology.
Source: MOTC